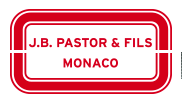 Home
The PASTOR name is inseparable from Monaco's international influence…

The story began over a hundred years ago, when Jean-Baptiste PASTOR, a mason by profession, left his homeland of Italy to work in Monaco. In 1920, he created his own construction company, J.B. PASTOR & FILS, which was entrusted  with the construction of the Stade de la Principauté by Prince Louis II. Work began in 1936 and the shape of Stadium is reflected today in the SAM des Entreprises J.B.  PASTOR & FILS logo. It was from this flagship worksite that the heritage and experience of the PASTOR family grew, the fruit of the relentless toil of a building dynasty, in which the undeniable know-how and passion for the building trade has been handed down from father to son for four generations. Gildo and Jean PASTOR, Jean-Baptiste's sons, took up the baton; the next generation included an inseparable trio, namely Victor J.B., Edmond and Jean-Antoine PASTOR, who followed this noble profession without pause.
Numerous emblematic constructions…
Over the decades, the quality of the works by S.A.M. des Entreprises J.B. PASTOR & FILS has been unfailing. Prestigious and highly symbolic constructions have succeeded one another, including:
Taking the railway underground, allowing Monte-Carlo to be more accessible and not hindered by the sea.
Luxury buildings throughout the Principality and in particular on the beachfront at Larvotto, on the great "Avenue Princesse Grace": "Le Beach Plaza" – the modern "Méridien", "le Bahia", "l'Estoril", "le Formentor ", "Le Roccabella".
The "Sporting d'Eté" in 1973 with its spectacular retractable roof.
S.A.M. des Entreprises J.B. PASTOR & FILS is currently run by Patrice PASTOR, the great-grandson of Jean-Baptiste, and is part of the GROUPE PASTOR.  The aforementioned works in several areas both in the Principality and on an international scale, in particular:  real estate development,  sales, lettings and management.